April 8, 1999
A Trail Without Tracks
Went up the hill with Trapper Steve in my truck. Started snowing just out of Estacada and it turned to cold rain up by Ripplebrook, inversion layer. Rain dropped off as we went higher. Stayed overcast and there was some wind when we were out of tree or ridge shelter. It stayed good and cold.

Went up the Collawash River to the dirt embankment site. Still much like we left it a week ago. Not hardly any rain damage at all. That surprised us. Climbed the steep slope to the south of the slide to the ridge above. Slippery, but there was lots of viny maple to grab when we needed it. There was a big ravine up there. I went on the south edge of the ravine and Steve went on the north side. That side dropped off into the river canyon where it made a sharp turn. It was all old tall timber up there, the good stuff, nice and big and tall. Under it was a lot of brush and a lot of semi-open space since the leaves and the spring growth wouldn't start for some time. It was very pretty and the climb up the ravine wasn't much.

There were many big blow downs on my side. A cyclone of some kind must have passed through there like a tornado or something. It didn't clear a swath, it had just knocked down a lot of trees. That old wind had come out of the ENE as almost all the trees laid WSW. They all had big root masses. Many were in excess of 8' and they all had a hole of soft dirt, excellent dry time resting places. The root masses would also protect from SW winds and should be very nice when the root holes weren't muddy or filled with water.

It was very eerie under the canopy. There was a little movement up high, but it was very quiet down on the ground. I couldn't see Steve at all. I felt like something had become aware of me and was behind me or something. I was checking the soft dirt of the blow downs for tracks and almost automatically, I began to approach them very cautiously. There were many of the big blow downs.

I heard Steve calling me from the other side of the ravine. It took some time to cross some small fallen logs, drop down into the ravine and get up the other side. It wasn't a great effort, but I took my time. When I got over there, Trapper Steve asked me to look around and see if I could see anything strange. I did and couldn't really grasp anything out of the ordinary. Then he pointed out that while there were many game trails, there were no deer or elk tracks on the ridge….none. He was right. I had plenty on my side of the ridge, but none were over here.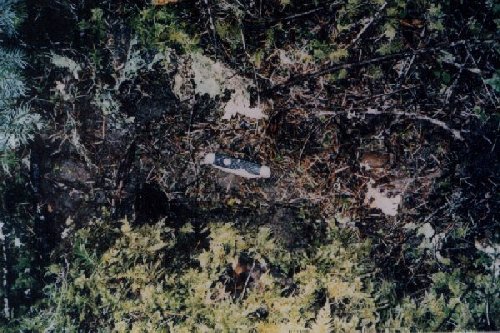 14 X 7" imprint found up Collawash Run. Note rock at heel area smashed into ground
Then he showed me a clear five toe footprint about 14" long. The heel didn't show too well, but there it was partly in the mud (toe area) and the rest smashed into the forest duff (soft stuff on forest floor). A little further up the trail was a complete print smashed into the moss. The moss was really smashed down. We wished we had better sun, we couldn't get a good grasp of a pattern. Then we went along and found another smashed and clear print and the toes showed clear in some mud. A stone about 2" in diameter had been pounded into the ground near the heel when the foot struck. These were definitely not bear of elk double strikes. The toe imprints were rounded.

I went up to a really big blow down root mass and checked the soft ground. Nothing. Now, I really felt something disturbing me. It was intense. Steve was off on another game trail, looking for more imprints. When he came back in a few minutes, I told him we had better get out of there until we had a plan. He seemed willing to go. We measured the prints and they were all about 14 -15" long and about 7" plus wide. I took a few photographs. Due to the ground and duff, there wasn't much to cast and we both wanted to move right along.

We went down to the slide by the road. I crawled up the hill measuring imprints and Steve wrote the measurements down. The slope of the slide was about 45 degrees (I measured about a 48" rise for about 24" of elevation), flattening somewhat near the top. At the top of the slide, there were exposed roots and about a 4 -5' rise to the forest floor. On one side, there was a path way through the rocky cliff and on the other side, there was a place you could walk around to get to the part of the slope you could climb.

The first three imprints had about 51" lineal between heel strikes. The next stride was 40" and the next was 43". There were more above me, but the slide was extremely unstable and I was getting covered with mud and moving more down than up, so I couldn't get to them. Steve had been glassing the upper end and said there were even more up there that I couldn't see. While the dirt was very crumbly, the imprints were in excess of 14" and showed clear toe pulls and heel strikes.

We took a break and then went down the steep slope to the overhang by the river. Looked very carefully for hairs or some sign. Nothing. Our first impression seemed right, very rocky and not good footing for a bare foot and no bedding area. Besides, the place seemed a little wind chilled being right by the river and with a generally westerly opening.

I was tired, so I went back up to the truck. Steve went along the river bank. I just had to look up the slope again, so I went over by the rock cliff side and scrambled up with a great deal of effort. I found five more imprints for a total of 18 steps! It also looked like something big had sat down up near the root mass drop-off and had looked out over the river canyon. I took some more pictures and slid down the slope.

I was beat, but Steve wanted to drive further south. We went down to the 6350 road intersection and were stopped by deep snow. The 6350 road leads to Graham Pass on the south side of Mt. Lowe. Walking around, Steve found some bobcats tracks in the snow. He had along his hand held GPS today. We tried it out several times and it wasn't picking up the satellite too good.

Started back. Stopped and did the bucket call same place as last week. Coyote made a clear reply. The bucket call is most excellent to our ears.

Made a detour on the way back down up Indian Henry road. The road to the gated intersection was still blocked by drag on the bottom snow. Went down by the track skid site. Went for nice slow walk in brush on the west side of the road. Brushy, somewhat tall regrowth with a seasonal creek and marshy area running through it. Found a depression from logging days that was full of moss and crushed, broken down bedding. What's to say.

On the way back, we decided it was time to put out the I-R operated cameras that Steve had bought. We decided I should go up during the weekend, scout around and find a couple of good spots around the slide area on the Collawash. I was to put out some baits and we would come back and set up the cameras.

Also and even more importantly to us, on the way back we were comparing notes. Steve said he had been "spooked" up the Collawash. I reminded him that after we had looked at a couple of the big imprints, that I had suggested: " We get out of here until we have a plan." He said he clearly remembered that comment.

About 6PM Steve called and said he had plotted all the difficult to interpret impression sites (tracks) on his maps. We had bought a good collection of typo maps from Captain's Nautical Supply. He had put his up on the wall of his study. He said that all of the imprints at all of the locations were at 1,800' (+/-)…..ALL OF THEM: Indian Henry, Mt. Mitchell meadow and the Collawash. We decided that we needed to recheck the maps and take this information under advisement.

It had been very cold today. I sat around for quite a while trying to warm up -we didn't heat the truck too much coming back, afraid of a cold. The shower, when I got around to taking it, was uncomfortably hot. I had been thoroughly chilled even though I had worn a parka, Sorrels, gloves and a cap. When I next saw him, Steve said he had felt the same way about the cold. We knew we must be careful and have adequate stuff to spend a night out in those conditions.

Incidentally, I had some things that needed to be done that weekend and didn't go back up to look for camera sites or set out baits.
All website content is © Copyright 2000, Joseph Hector Beelart, Jr. unless otherwise noted.
All rights reserved.
Pages created and maintained by