March 8th, 1999
Morning drizzle. We stayed in bed until about 9 AM! What else to do? I had gone out to check things earlier, just after dawn, but it was too wet and I crawled back into the bag.

Very overcast, foggy and near freezing. This was a chilling cold morning. Kept the propane heater going. Coffee. Showed him how to boil coffee. I like it best that way, get all of the jolt, although I think the oils are very bad for you. Trick is to just put in a little cold water after the stuff creams up and the grounds sink! That's the way we had it when I was young all the time. Can't remember what else for breakfast - nothing? Oh, there was the thick fried bacon and tomato juice and some other things, like canned fruit. Not much else. Checked stuff. Wet. Back to trailer. Talked.

Damn Devil's Club (short thick ground cover plant with sturdy thorns) cut right through yellow cotton gloves. Walked below the camp after drizzle stopped. Thick forest reprod. Companion went one way, I the other. He turned at a winter fed creek and came to find me. Had a laugh as he saw my duck toed footprints in the snow. He also showed me a big interior shelter in some brush. There was like a tunnel going in a short ways and then a big room that didn't see a lot of moisture. In the summer when the leaves were out, would have been very hard to find. Didn't see any animals. Some deer tracks down lower.

Went for a drive in the forest. A timber boss stopped us. Big pickup, lots of radios, aluminum writing pad and a brief case. Acted like a redneck jerk. Thought it was strange that people would be camping out in this weather. Probably thought we were poachers, except the truck was too nice and he couldn't see any guns. Ended up on a mountain top and could see the ocean in the distance. The clouds had lifted and there were even a few spots of sun.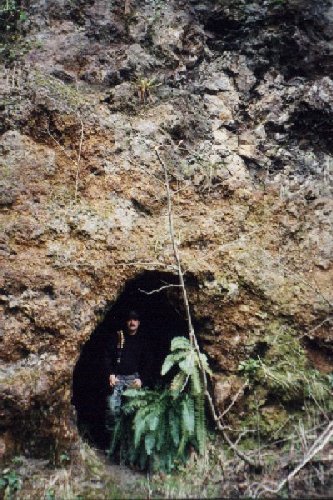 Todd Neiss in mine shaft entrance Coastal Range 3/99
Found an old mine shaft. Part of the roof had fallen at the entrance. To put it bluntly, I was scared of the place. Companion wanted to explore. Quite a few feet in, was standing water on floor. Dead still water. Companion tossed a powerful light stick far back. Just more water and more shaft. I was afraid of a vertical shaft under the water. Slurp. Down you go. Companion didn't think much of my timidness in the place. In this instance, I didn't care. Spooky. He did have a good point. Could a BHB live at the far end of the water? Could it be a natural security device?

We went back to camp and hiked up the hill. Found a great little canyon. Mainly mature alder. On way up, I all by myself, found a nice big den under a rock. Coyote? Up toward head of canyon, got steeper. Very large rocks had come down and rolled. Rocks were easily 10' in diameter and larger. Sheltered spaces had been used under them. One of the spaces was easily big enough to shelter a man.

Got tired and getting toward evening, so we walked back down the hill. Nice big, thick pork chops with green beans for dinner. Had the little heater going. The weather stayed a bit windy, but dry. Started a fire with the waxed and pressed logs.

Stayed up late into the night again; but not as late. We were tired. Companion was an excellent conversationalist. He had an excellent knowledge of the subject of our concern and many other things. My new, economical camp chairs were very comfortable. The pressed logs gave a lasting, nice fire. It did not rain, but it was clear another storm was coming in from the roiling, fast moving clouds. Again, it was dark out there.

Went to bed. Again, we drained ourselves good around the tent trailer. No coyote barks tonight. Other things kept us awake off and on. It was cold. The rain had started to saturate the tent material and was starting to drip. The propane heater helped this along. On my side of the pop-up, it was really dripping and the bag was starting to get wet. I was getting cold.
All website content is © Copyright 2000, Joseph Hector Beelart, Jr. unless otherwise noted.
All rights reserved.
Pages created and maintained by